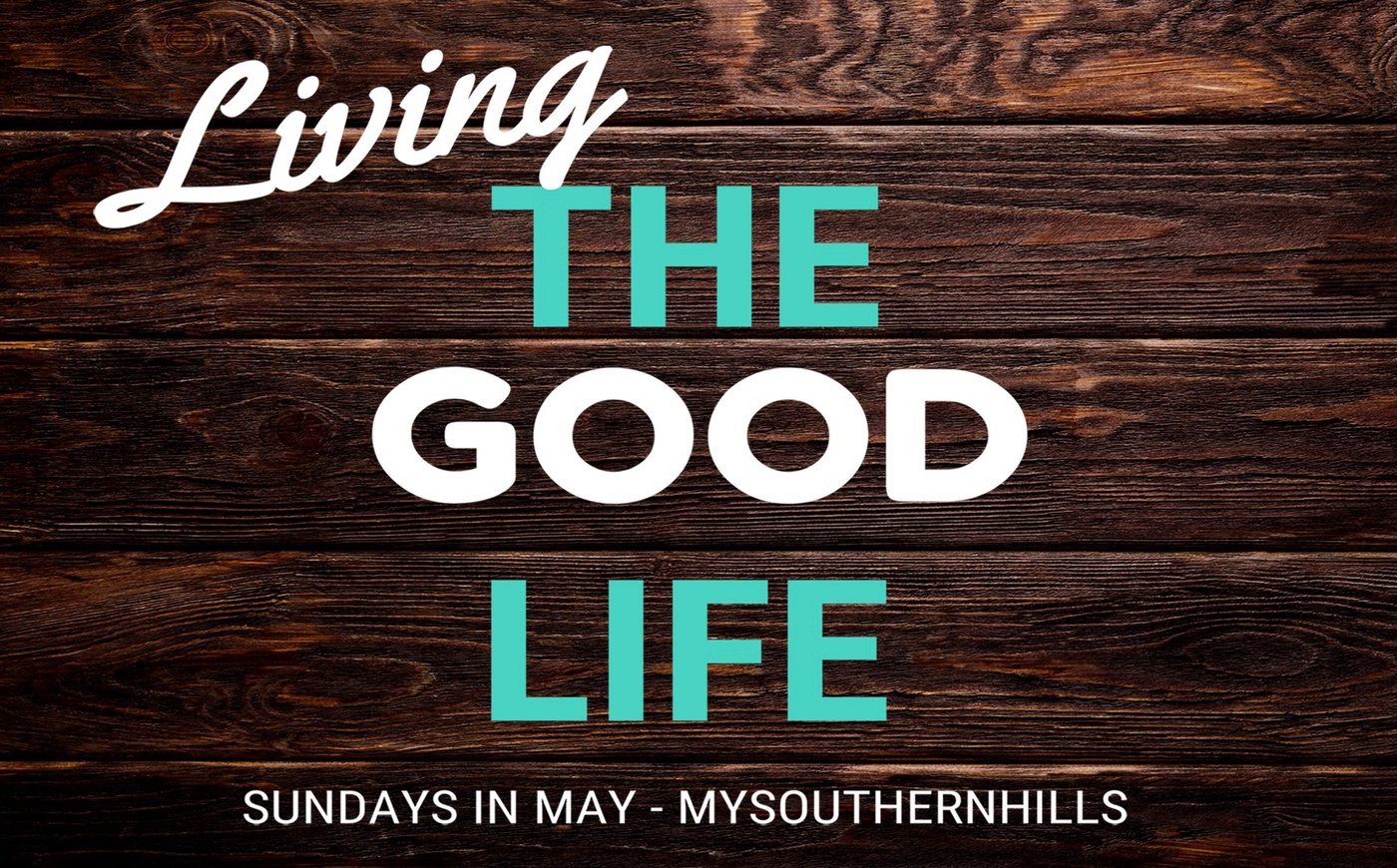 SUNDAYS IN MAY
LIVING THE GOOD LIFE - Everybody has their idea as to what it is to live the good life these days. But what does the Bible have to say about what a REAL good life is all about? Join us in-person or on-line at 9:00 a.m. or 10:30 a.m. on Sunday mornings as we talk about Living the REAL good life!
Pastor Hess
All Services can be watched LIVE on . . .
WEDNESDAYS @ SHBC - 6:30 PM
Check out our current MidWeek schedule
(click on the class title to join the class or inquire further)
ADULTS
Echo - We provide education regarding how trauma and loss impact children's lives. We study (TBRI) Trust Based Relational Interventions, support one another in applying care giving techniques to heal and move children toward healthier futures. ECHO is comprised of parents, grandparents, guardians, counselors and others who desire to bring healing to children from hard places.
Men's Study - Cultures In Conflict . Join us any Wednesday night (OR on Thursday mornings at 6:30 a.m. - we do the same study if you like an AM study.)
Celebrate Recovery Step Studies are small groups where real life change can happen. This is a Bible-based recovery program. Groups are gender based and meet weekly to work through the 12 steps. A step study can take anywhere from 9 months to a year to complete. It is a safe place to find support and accountability. To Inquire or sign up click one of these links. Men's Step Study Women's Step Study
CHILDREN
· Students - Worship/Game nights every Wednesday at 6:30 pm (6 - 12th gr.)
· Kids - Bible Expedition, begins Sept. 16 (K - 5th gr.)
· Preschool - Ollie's Explorers, begins Sept. 16 (birth - Pre-K)
CURRENT ON-CAMPUS SCHEDULE
SUNDAYS - 2 Worship Services, 9:00 & 10:30 a.m - In-person and on-line.
WEDNESDAYS - Various Classes for all ages, 6:30pm - Mostly In- person
Adults have several class options (see above)
Preschoolers - Ollie's Explorers
Children - Bible Expedition
Mid-Hi - Small Group time
Hi-School - Home Groups (meeting on campus currently)
FRIDAYS - 7:00 PM - Celebrate Recovery - NO dinner, Doors open at 6:40 pm for Worship time for Adults that include a lesson or a testimony. (On-line too.) Kids from infants up through 5th grade have Celebration Place & Teen 6th-12th have the Landing. at 8:00 pm we have a Newcomer class each week and Gender-based Open Share groups. (Sorry but no dinner or dessert time is available at this time.)
SUNDAYS - 9:00 A.M. KIDS & STUDENTS ON CAMPUS
SUNDAY MORNING LIFEGROUPS FOR ADULTS - Most in-person classes also have an on-line Zoom option as well.
9am LifeGroups w/ 10:30am Worship
***NEWCOMER CLASS (Watkins) - room 214
Younger Adults, (Moore) - room 210
"I Do", (Morris/Collier) room 207
Family Matters, (Chinworth) room 203
Whiteman Class, room 206
Disciples with Donuts, (Curry) room 205
On the Road, room 202
Doing Life Together, (Love/Vincent) room 211
Connections (Pennington/Walthall) room 209
9am Worship Service w/ 10:15am LifeGroups
New Creatures (Grigor) room 213
Ekklesia (Olsen) Meeting Room
Koinonia (Lewis) room 204
Oasis (Cox) - zoom only right now
Winsome (Fritchman) - Zoom only right now
***About Newcomer Class
Our goal is that every person who comes through the doors of our church would eventually become GROUNDED, GROWING, and GIVING in every facet of their lives. In order to help people understand each of these ideas and then commit to pursuing them, we offer an opportunity to meet with members of the pastoral staff to help answer questions about joining the church body.
Our Newcomer class is perfect for anyone who wants to know about our faith family. Pastor Steve Watkins can answer your questions about our church. This is also a great way to find out which LifeGroup might be a good fit to try out the following Sunday.
If you are new to our faith family and would like to learn more about who we are, or if you are wanting to invite a friend to come check out our church, we hope you'll check out our Newcomer class. It meets every Sunday at 9:00 .m. in room 214. Sign Up to attend here.
FOR EVERYONE'S SAFETY - Here are the basic requirements
While in the church building/office for any reason:
Observe social distancing - stand/sit 6' away from people who do not live in your household.
Wear a face mask - bring one with you. If you forget, we will provide one for you. (Elementary age kids and up through all adult ages)
Wash your hands/use hand sanitizer often.
No paper handouts - bring pen and paper if you wish to take notes.
Stay home if you have a fever, feel bad, have a cough, etc. Please join us on-line instead for a while longer.
ON-LINE & SOCIAL MEDIA
We invite you to join us on-line during this time!
FRIDAY Night Worship service – 7:00 pm
Praise & worship music & powerful testimonies of how God changes lives!
On our Southern Hills Baptist Church Facebook page and at www.mysouthernhills.church website
SUNDAY Worship – 9:00 a.m. & 10:30 a.m.
On our Southern Hills Baptist Church Facebook page or www.mysouthernhills.church website
Brief Evening Goodnight thoughts from Pastor Hess
Monday – Wednesday at 8:30 p.m.
On our Southern Hills Baptist Church Facebook page
Right Now Media
It's like the Nextflix of video Bible studies. Our goal as a church is to help equip you to grow closer to Jesus. Use this amazing resource to help you and your family grow.